– The debt ceiling is the amount of money Congress has authorised the government to borrow. The ceiling has been raised 78 times since 1960.
– It's not clear how the debt ceiling fight will be resolved or how it will impact investors.
– We believe a diversified mix of equity and fixed income investments and a long-term horizon are likely to be the best tools to ride out uncertainty.
If ongoing debate over the debt ceiling is giving you a dizzying sense of déjà vu, you are forgiven.
The debt ceiling, or limit, reflects the amount of money the United States (US) Congress has authorised the government to borrow, and Congress can authorise increases when the government nears or reaches the existing limit.
According to the US Treasury Department, Congress has acted to effectively raise the debt ceiling 78 distinct times since 1960.3 Occasionally, policymakers have struggled to reach consensus to authorise increases.
The US effectively reached the debt limit in January, triggering "extraordinary measures" by the Treasury Department to allow continued servicing of existing debts and obligations.
But Treasury Secretary Janet Yellen has issued a warning that the "X-date," when these extraordinary measures may be exhausted, could come as soon as June 1.2
As the X-date approaches without a political consensus to raise the debt limit, many investors are wondering how a breach of the debt ceiling could impact their investments.
The debt limit negotiations are one of many factors that impact security prices.
While debt ceiling debates can be nerve-racking, the implications for investors are uncertain.
Historically, Congress has always raised the debt limit, and even if Congress failed to increase the limit in time, it is not clear what that would mean in practical terms. A range of payments could be impacted, from salary payments for federal workers to interest and principal payments on federal debt.
But trying to predict likely scenarios is largely unproductive, given that markets have priced in the potential range of outcomes.
Sticking to a sound investment plan that is designed to achieve long-term goals can help investors see beyond the current turmoil.
Prices over Pundits
As the X-date nears without a clear path to political resolution, we may observe reactions and heightened volatility in both the equity and fixed income markets.
The debt limit negotiations are one of many factors that impact security prices.
In the debt ceiling crisis of 2011, US Treasury yields declined during the period surrounding the culmination of the tense negotiations that resolved in August (see Exhibit 1), despite S&P downgrading the credit rating on US sovereign debt from AAA to AA+.3  
Exhibit 1
Falling Yield
Daily 5-Year US Treasury Yield, 2011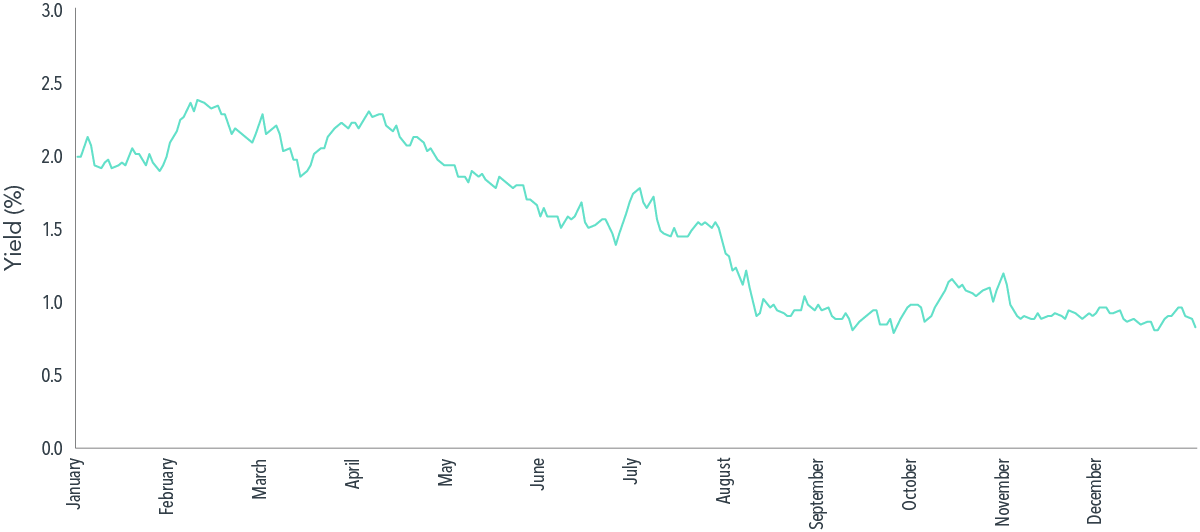 Past performance is no guarantee of future results.
Looking at past examples cannot tell us what will happen in the future, but it can provide an important reminder that trying to outguess the market is a fool's errand.
An investment approach that incorporates current price and yield information allows investors to harness the market's collective wisdom and real-time adaptation to changing market conditions.
Flexibility over Forecasts
Market volatility is part of investing. Facing uncertainty is a prerequisite to earning risk premiums, and times of heightened uncertainty can often bring heightened volatility.
Planning for uncertainty with a flexible and adaptive investment process can help you navigate volatile market environments while staying focused on your goals.
Reacting to short-term uncertainty may be a quick way to derail progress toward long-term goals.
An investment approach with built-in flexibility enables portfolio managers to adapt to changes in market prices or credit spreads in real time. It also allows for sensible ongoing portfolio management to potentially avoid unnecessary trading during times of heightened volatility.
Certain types of investment strategies, like traditional indexing, may face constraints that limit their flexibility due to having to closely track an index regardless of current market conditions.
Designing investment portfolios and processes with flexibility can help give portfolio managers and traders additional tools to sensibly manage ongoing risks, potentially reduce costs, and maintain a focus on higher expected returns even during times of heightened market volatility.
This year, measures of interest rate volatility on US Treasury securities have been elevated (see Exhibit 2), though these levels are influenced by a range of factors, including expectations for the federal funds rate.
Exhibit 2
Interesting Times
Interest rate volatility on US Treasury securities, 1988–April 30, 2023*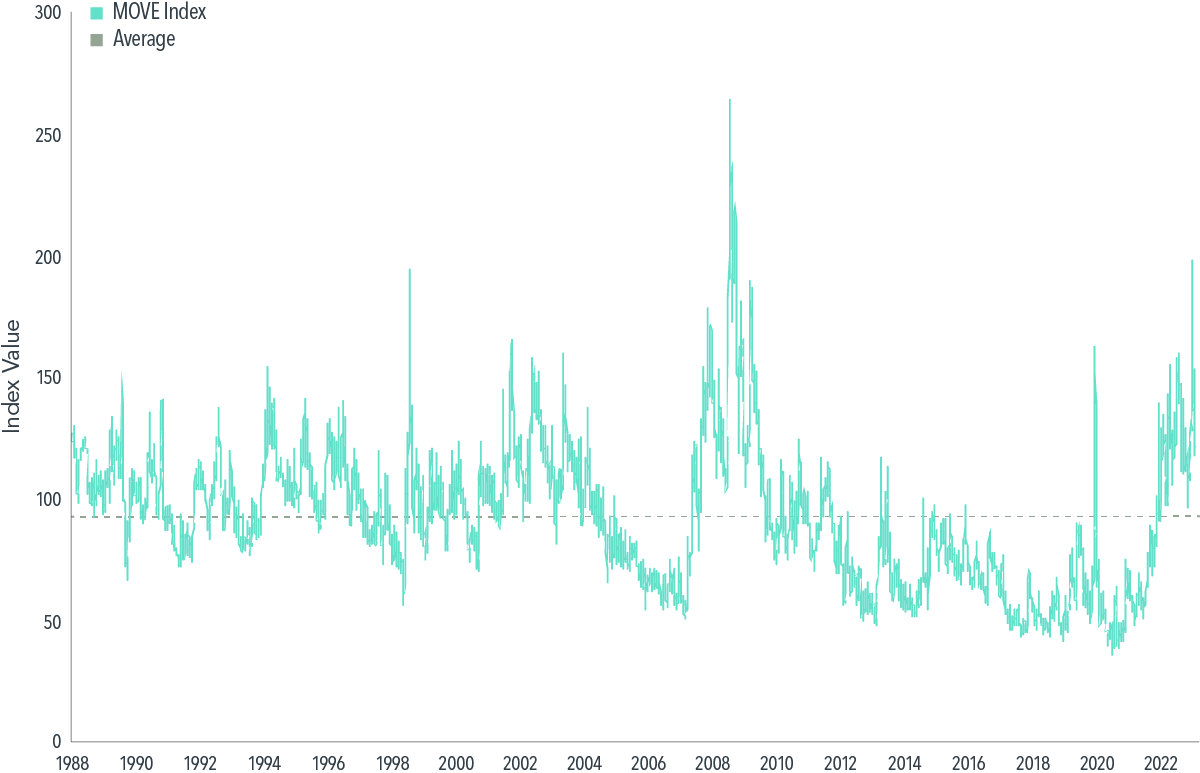 Past performance is not a guarantee of future results. Indices are not available for direct investment; therefore, their performance does not reflect the expenses associated with the management of an actual portfolio.
Diversification over Debates
When investors face uncertainty, diversification remains one of the most important risk management tools available to them.
Although a US government technical default would likely trigger reverberations throughout global markets, we believe the following:
A balanced asset allocation of global equity and fixed income investments combined with a long-term investment horizon are the best tools investors can use to help ride out short-term and close-to-home uncertainty.
---
Footnotes
3 Credit rating agencies like Standard & Poor's Corporation (S&P) rate the credit quality of debt issues. S&P's scale is from AAA to D with intermediate ratings of (+) or (-) offered at each level between AA and CCC.
Disclosures
The information in this material is intended for the recipient's background information and use only. It is provided in good faith and without any warranty or representation as to accuracy or completeness. Information and opinions presented in this material have been obtained or derived from sources believed by Dimensional to be reliable, and Dimensional has reasonable grounds to believe that all factual information herein is true as at the date of this material. It does not constitute investment advice, a recommendation, or an offer of any services or products for sale and is not intended to provide a sufficient basis on which to make an investment decision. Before acting on any information in this document, you should consider whether it is appropriate for your particular circumstances and, if appropriate, seek professional advice. It is the responsibility of any persons wishing to make a purchase to inform themselves of and observe all applicable laws and regulations. Unauthorised reproduction or transmission of this material is strictly prohibited. Dimensional accepts no responsibility for loss arising from the use of the information contained herein.
This material is not directed at any person in any jurisdiction where the availability of this material is prohibited or would subject Dimensional or its products or services to any registration, licensing, or other such legal requirements within the jurisdiction.
"Dimensional" refers to the Dimensional separate but affiliated entities generally, rather than to one particular entity. These entities are Dimensional Fund Advisors LP, Dimensional Fund Advisors Ltd., Dimensional Ireland Limited, DFA Australia Limited, Dimensional Fund Advisors Canada ULC, Dimensional Fund Advisors Pte. Ltd., Dimensional Japan Ltd. and Dimensional Hong Kong Limited. Dimensional Hong Kong Limited is licensed by the Securities and Futures Commission to conduct Type 1 (dealing in securities) regulated activities only and does not provide asset management services.
Risks
Investments involve risks. The investment return and principal value of an investment may fluctuate so that an investor's shares, when redeemed, may be worth more or less than their original value. Past performance is not a guarantee of future results. There is no guarantee strategies will be successful.
Diversification neither assures a profit nor guarantees against loss in a declining market.
This material is issued by DFA Australia Limited (AFS License No. 238093, ABN 46 065 937 671). This material is provided for information only. No account has been taken of the objectives, financial situation or needs of any particular person. Accordingly, to the extent this material constitutes general financial product advice, investors should, before acting on the advice, consider the appropriateness of the advice, having regard to the investor's objectives, financial situation and needs. Investors should also consider the Product Disclosure Statement (PDS) and the target market determination (TMD) that has been made for each financial product either issued or distributed by DFA Australia Limited prior to acquiring or continuing to hold any investment. Go to dimensional.com/funds to access a copy of the PDS or the relevant TMD. Any opinions expressed in this material reflect our judgement at the date of publication and are subject to change.